Air pollution significantly impacts schoolchildren because their immune system is still developing. In East London, a 2019 study showed that over 2,000 schoolchildren residing in places with the highest levels of dirty air grew smaller lungs. Earlier this year, the US Health Effects Institute provided evidence showing a definitive link between asthma in children and traffic pollution.
Over the years, air pollution has become a global environmental and health crisis that affects both developed and developing countries. It has become more dangerous than cigarette smoking, HIV, and AIDS. Children are exposed to toxic air at home, in school, as they travel, and in all the public places they go to.
Reducing emission levels is the key to protecting children from the adverse effects of air pollution. While the UK already has Clean Air Zones (CAZs) and London has its ULEZ (Ultra-Low Emission Zones), these programs do not protect children.
This is where the School Street initiative comes in.
School Streets explained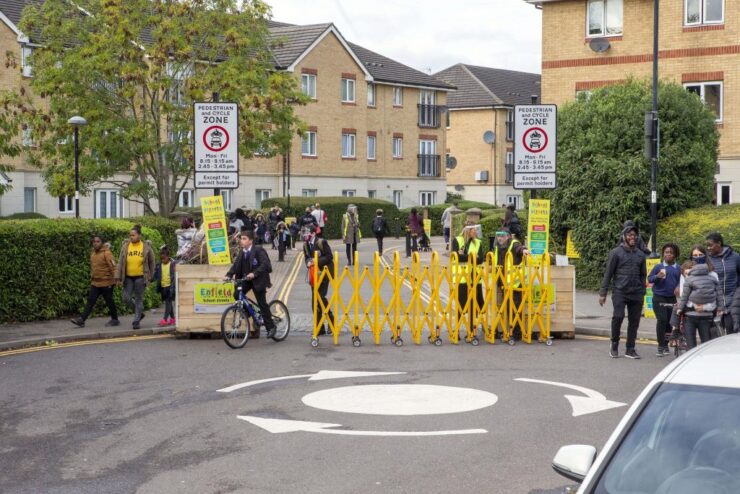 School streets are roads located outside the school area where motorised traffic has temporary restrictions during drop-off and pick-up hours. All school traffic and through traffic are included in the restriction.
The primary purpose of school streets is to reduce traffic and, in the process, bring down toxic air emissions, protect schoolchildren's health, and reduce road danger. This helps make the school environment healthier, cleaner, and safer. Children and their families will also be encouraged to practice a cleaner, healthier, and safer lifestyle.
School streets have been around since the 1980s, the first ones being in Italy. However, they only started getting attention in 2012 after the European Union imposed a school transport project.
In the UK, Scotland's East Lothian was the first to establish a school street in 2012. This was followed in 2016 by a school street in Camden, the first one in London. From then on, school streets sprouted one after the other and spread to other cities in Europe while expansions happened in London and Belgium. Paris had a trial school street in 2019.
In 2020, fuelled by the COVID-19 new normal, numerous school streets were created and the rapid expansion resulted in an increase that totalled over 1000.
Most of the cities with school streets are situated in highly polluted areas.
Communities surrounding school streets can also benefit from them as road traffic is often replaced by healthy chatter and active play.
How effective are school streets?
According to a study that observed 16 London school streets, nitrogen dioxide (NO2) levels were reduced by at least 23% while 18% more children now prefer cycling or walking to school. This may seem like small numbers but with proper management, these numbers can encourage other areas to create school streets. The traffic reductions can also expand to a wider area.
Why are emissions dangerous?
Source: cbc.ca
In 2015, the Volkswagen Group received a notice of violation from the EPA (Environmental Protection Agency) and the California Air Resources Board. Authorities found illegal defeat devices installed in Audi and Volkswagen diesel vehicles that were sold to US consumers.
A defeat device can sense when a vehicle is taken into the lab for regulatory testing. Once it does, the device automatically and artificially reduces emissions levels to within the limits mandated by the World Health Organization (WHO). During testing, the vehicle is clean, safe, fuel-efficient, and emissions-compliant.
Once the vehicle is taken out for real-world road driving, however, it starts to emit massive volumes of nitrogen oxide or NOx, a pollutant with life-threatening effects on human health. NOx can damage the environment.
Volkswagen is not the only carmaker that used defeat devices; other manufacturers such as BMW, Mercedes-Benz, and Vauxhall were also caught red-handed using illegal software. Over the years, numerous other carmakers have violated emissions regulations by manipulating emissions. These manufacturers have spent millions in fees, fines, and compensation. Millions of affected vehicles have also been recalled for engine correction.
NOx emissions contain NO2 and nitric oxide (NO). Nitrogen oxide is also responsible for the formation of smog and acid rain, and it produces a pollutant called ground-level ozone, which can damage vegetation.
If a person is exposed to NOx emissions, they can develop the following health conditions:
Increased risk of dementia (due to reduction of cognitive abilities)
More frequent episodes of anxiety and depression
Lung problems – fluid can get into the lungs
Difficulty in breathing
Various respiratory diseases, including emphysema
Cancer
Cardiovascular diseases
Premature death
Carmakers should be held responsible for these impacts and the lies they told their customers. They have potentially sold vehicles that are pollutants and contribute to instead of reducing air pollution. Carmakers exposed car owners to dangerous diesel emissions. Drivers are encouraged to bring forward a diesel claim against these car owners.
What is my diesel claim about?
Source: theguardian.com
A diesel emissions claim is a legal action that affected car owners bring against their carmakers for violating emissions regulations. If a claim is successful, you can receive compensation, the amount of which is dependent on the circumstances of your emissions case.
However, not all Volkswagen, Mercedes, or BMW vehicles are affected by defeat devices. So, you should first verify if you are qualified to bring forward a diesel claim. Visit Emissions.co.uk to get all the information you need to start your case.