Sneaker culture is a fascinating, vast and sometimes intimidating world. Entire companies, blogs, careers and conventions are devoted to dissecting and debuting the season's most exclusive styles and releases, and the nuances are not to be understated. Talking to a genuine "sneakerhead" who is sporting the coolest kicks and spewing encyclopedic knowledge about shoes you maybe recognize but cannot name surely feels daunting, but it doesn't have to be. Just like holistic wellness or endurance running, sneaker culture is a community worth knowing about. With minimal exposure to sneaker history and a bit of attention, one quickly begins to note the influences that art, landscapes and organic life have on shoe design, and by extension, mainstream culture. While I am surely not a sneakerhead, I do have a healthy appreciation for iconic shoes that were created before my time, transformed across decades, and today remain profoundly popular in fashion (and my closet). No shoe is a greater example of this than Nike's Air Max, to which this post and shopping roundup is devoted.
Why the Hype
Lately, Nike's iconic Air Max sneakers have saturated social media newsfeeds thanks to #AirMaxDay last month, the release of especially bold shoe packs and reissues of classic styles. Originally designed as a running shoes for competitive athletes, the Air Max now reigns supreme as a streetstyle staple for men and women with seasonal updates that make it ever-interesting. If you're looking for a new sneaker to add to your athleisure rotation – look no further. Air Max's are available in a plethora of styles and colors, they add over 1/2 inch to your height, and they have a fascinating origin story that underscores the commonalities between architecture and shoe design.

Air Max Origin Story
Nike's Air Max 1 came onto the scene in 1987 and by all accounts, changed sneaker culture forever. The man to thank for that is Tinker Hatfield, who worked as Nike's corporate architect until 1985 when we was tapped to join the design team. As architects are known to do, Tinker was inspired by his surroundings and in particular, a trip to the Centre Pompidou in Paris, France. The style of this contemporary art museum is often described as "inside-out". All components that are traditionally hidden within a building's infrastructure were on the outside, commanding viewers' attention with bright colors and conspicuous placements. Visitors approaching the Pompidou clearly see the massive heating and cooling systems, cement beams, elevators and even the museum patrons — or what Tinker called "the guts". This notion of revealing the unseen and use of unusually bright colorways indubitably moved Tinker and assumed an athletic expression in the Air Max 1. Although initially rejected by Nike's marketing team and running department, the visible air pouch "concept would become a defining brand for Nike, especially in terms of establishing the company's superiority in technology-driven design" explains sneakerhead Adam Clark Estes.
Have 8 minutes? Watch this video on the birth of the Air Max 1, narrated by Tinker himself.
Evolution of the Air Max
After the first release, every couple of years saw a new AirMax model. Now days the most exciting releases are reissues of the classic styles. Did you have any of these?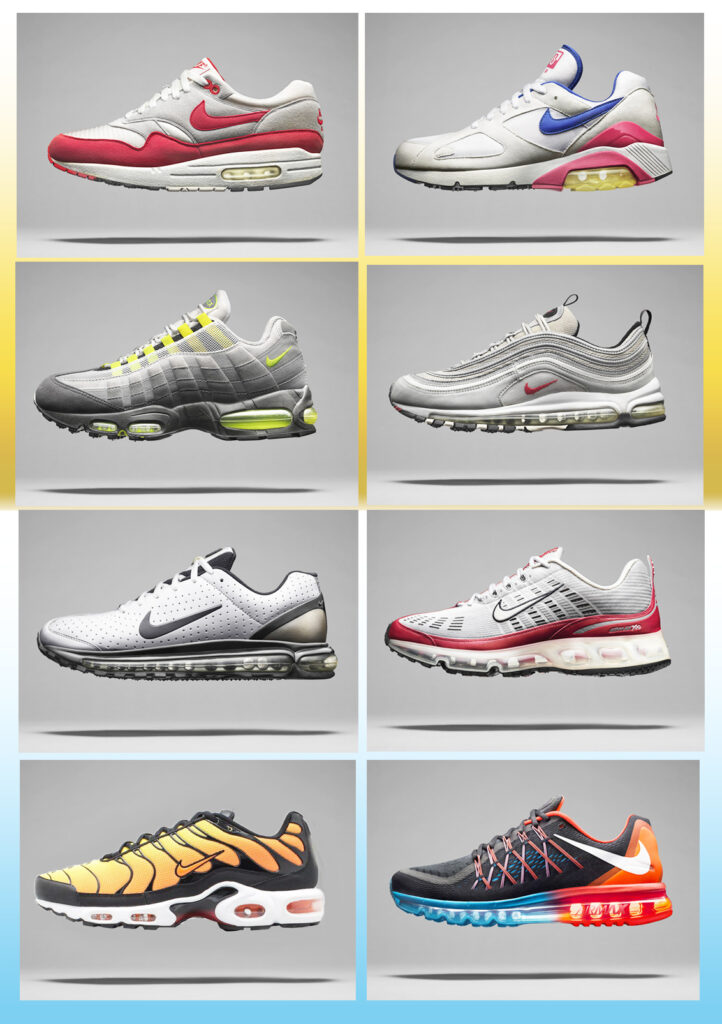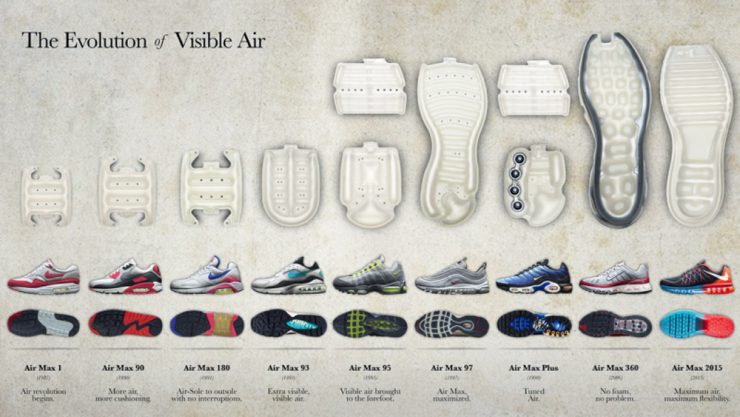 Shop the Swoon-worthy Air Max
As with all things style related, sooner or later, what's old becomes new again. Reissues of the Air Max 1 offer color palette and material options for everyone. Tag us using #honestlyFITfam on Instagram for a feature.