What does the place look like in the room where you study or work sitting in front of the computer? A regular desk and a chair? If so, then your workplace needs tuning. To increase productivity and improve health, it's time for you to think about a smart automated desk.
One of the main elements of the workplace is the desk. It should be large enough, like in this example, stable and strong to accommodate not only a computer, keyboard, and other accessories but also all the necessary documents and additional things that are important to you. It is important that the tabletop has a depth of at least 75 cm (otherwise the monitors will be too close to the eyes). A big plus is the presence of holes for wires.
If you have just such a desk, then it still has a significant drawback – you will have to sit at it for several hours, and that is a considerable load and strain to a healthy back and neck. Not everyone succeeds in stopping work to warm up. Sometimes people forget to do it, and sometimes there is no time to break away from work.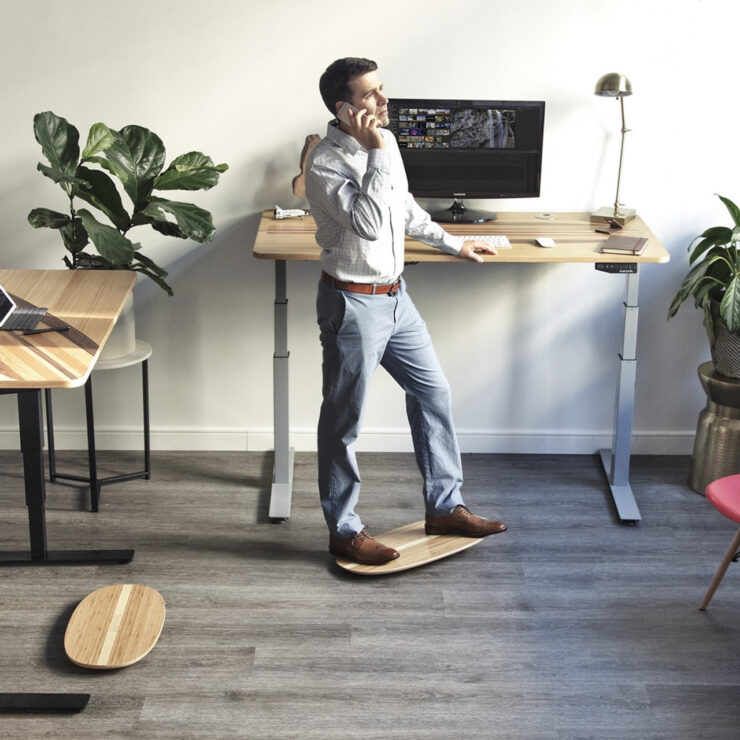 What Can Smart Desk Improve?
Instead of a regular desk for working with a computer, it is better to use a transformer model with the ability to change the height. It has a design that allows you to raise the tabletop to a height of up to 120 cm using a special convenient remote control or control panel. The smart table is equipped with a 3-4 position memory function so that you do not set the height each time.
Having an adjustable table, you can either sit or stand while working. This, according to the conclusions of physicians, significantly reduces the load on the spine, prevents the development of problems with blood vessels, and prevents the appearance of excess weight.
Working while standing is a fashionable trend (especially in Europe). Many modern offices use just such tables, but there is an important point. When you stand, the load on the lower limbs increases. Therefore, be sure to put a thick soft rug on the floor.
A standing desk is great for offices and for working from home. Such a desktop helps maintain health. For example, it helps to cope with back pain, strain in the lower back and shoulder, arthritis, joint problems, leg and chest pain, etc. And most importantly, it improves posture and appearance.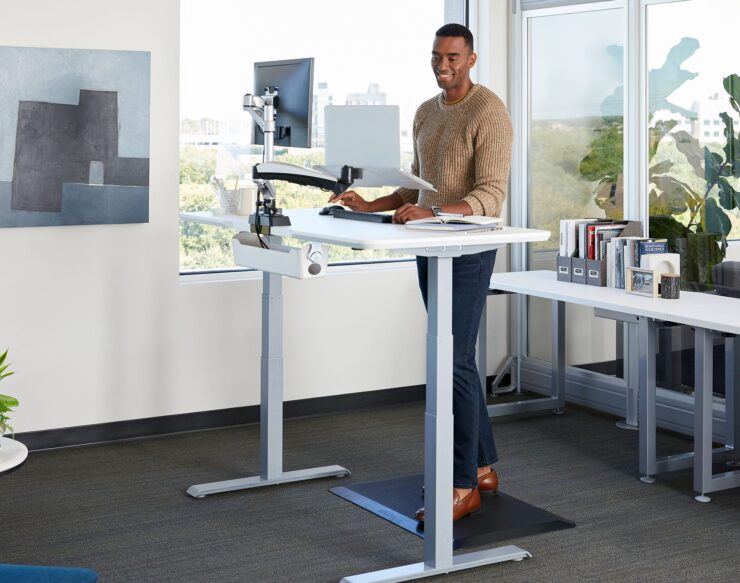 More Reasons to Choose a Standing Desk
Unlike sitting, when standing, the body is in a vertical position and the entire load is distributed evenly on the skeleton and muscles, and the spine is not overloaded. Instead, when sitting, the muscular corset of the torso relaxes and the entire load falls on the spine.
The first and most important rule that should be followed by people who work at a computer is to work in a dynamic posture, that is, to change the position of the body during work frequently or to work while standing.
According to research results, after a month of working in a sitting-standing position, more than 50% of people get rid of pain in the upper back and neck. Thanks to working standing or in a dynamic position, blood flow improves throughout the body, and the risk of heart disease decreases.