Nested between National Forests and 30 minutes from Oregon's popular Redmond airport, Smith Rock State Park is the belle of the Central Oregon ball. After years of seeing stunning photos and hearing praise for the park's volcanic rocks, sweeping vistas and winding river, I made sure to squeeze in a visit before my flight home after a trip to Bend. As state parks go, Smith Rock is still pretty young. Established over the 1960's and 1970's through various land acquisitions, the park is cited as the birthplace of American Sport Climbing, aka rock climbing. White climber's chalk speckles all the park's imposing cliffs and walls, reminding every visitor that they've arrived at 'the mecca'. On the day of my visit I was with a mixed group of family – rock climbers and hikers both seeking to get a good sweat and some epic views in a couple of hours. Lucky for all of us, we got that plus a surprise thunderstorm to cool us down. Here are some travel tips and highlights from my 3 hour hike: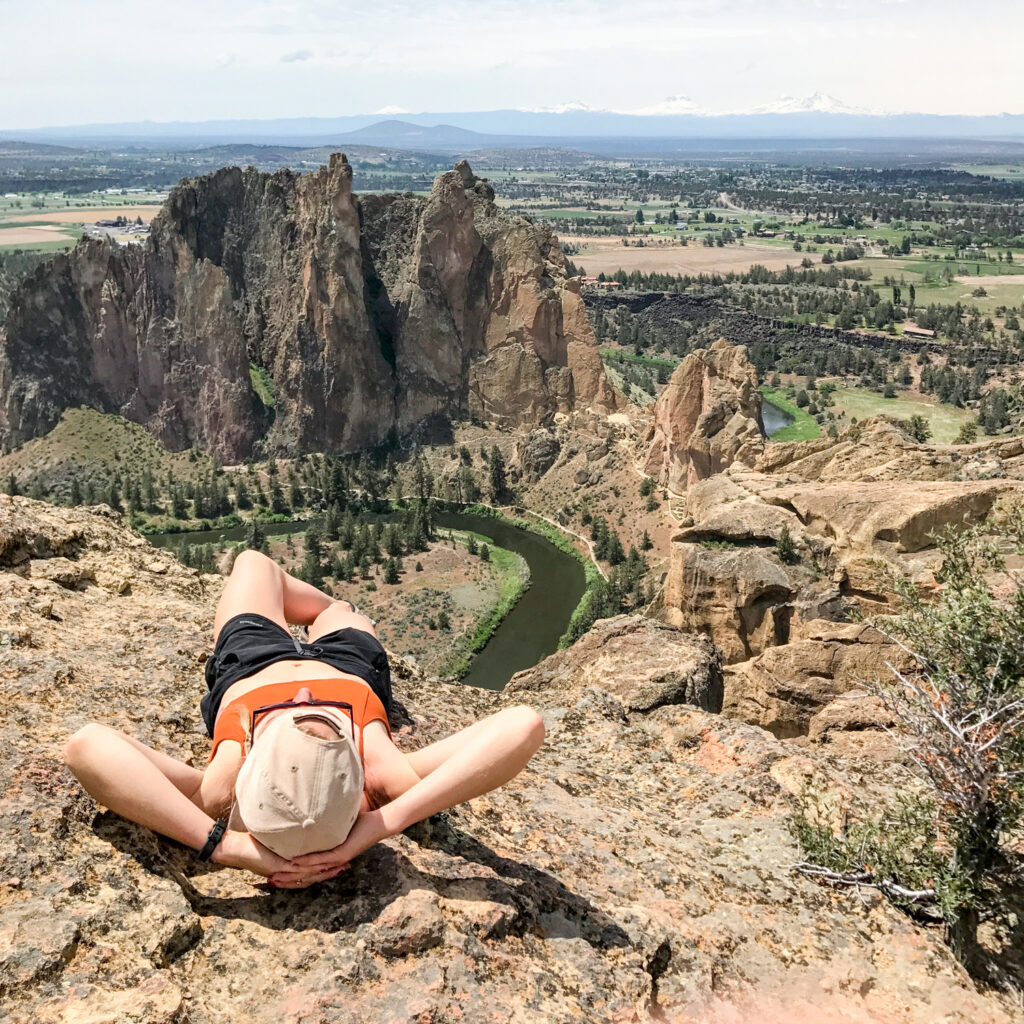 Once the rockclimbers in our group set off, the other hikers and I chose to the ~4 mile Misery Ridge Loop (map below). This is no joke when it comes to elevation gain and exposure, so be sure to pack protection for sun and rain. We began the hike with a climb from the base of Misery Ridge Trail. After crossing the river from the visitor's center, we began the climb up to Misery Ridge and almost immediately came upon expansive views of the Crooked River and Staender Ridge.


View from Misery Ridge Trail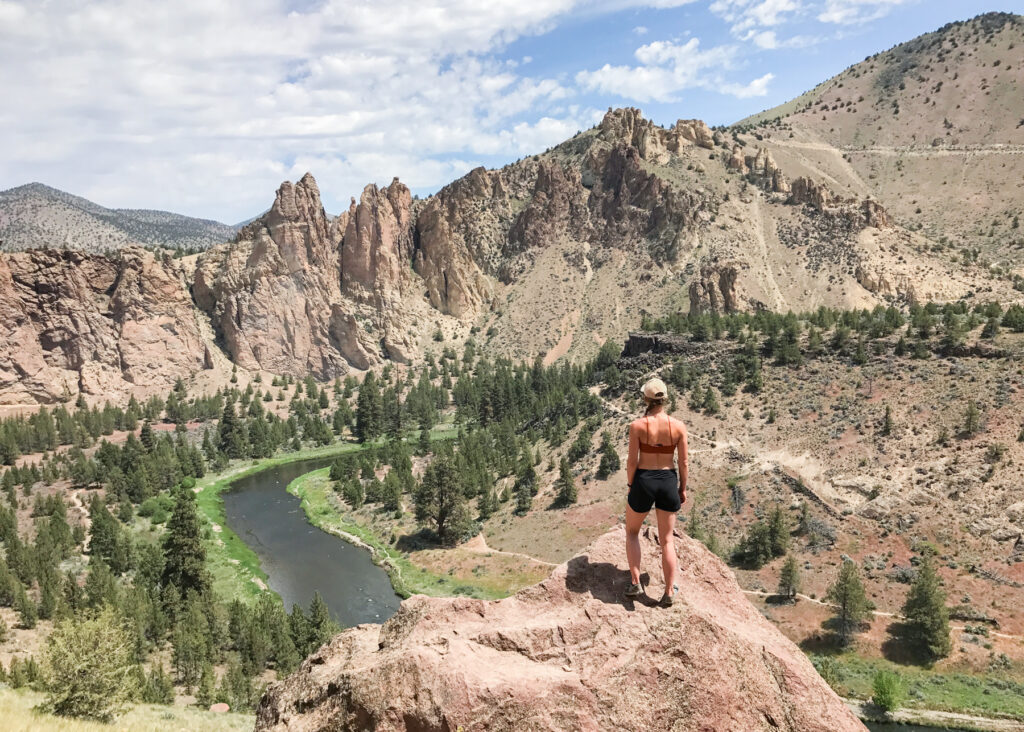 Looking east over the Crooked River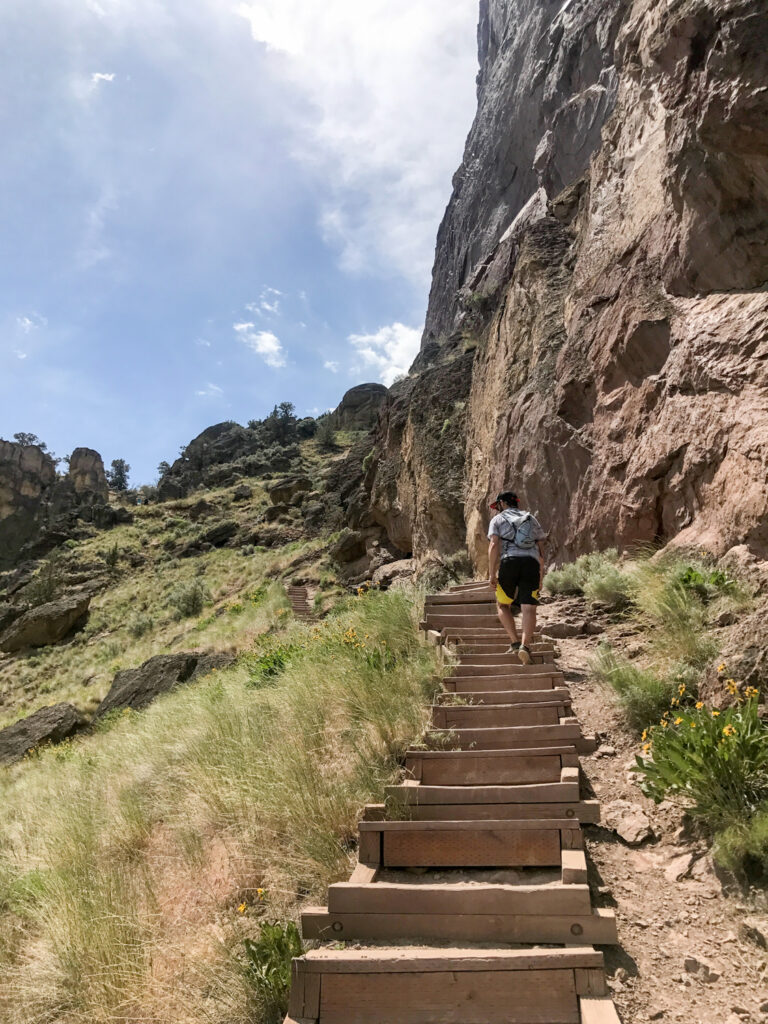 Steps make up the final climb section of the Misery Ridge trail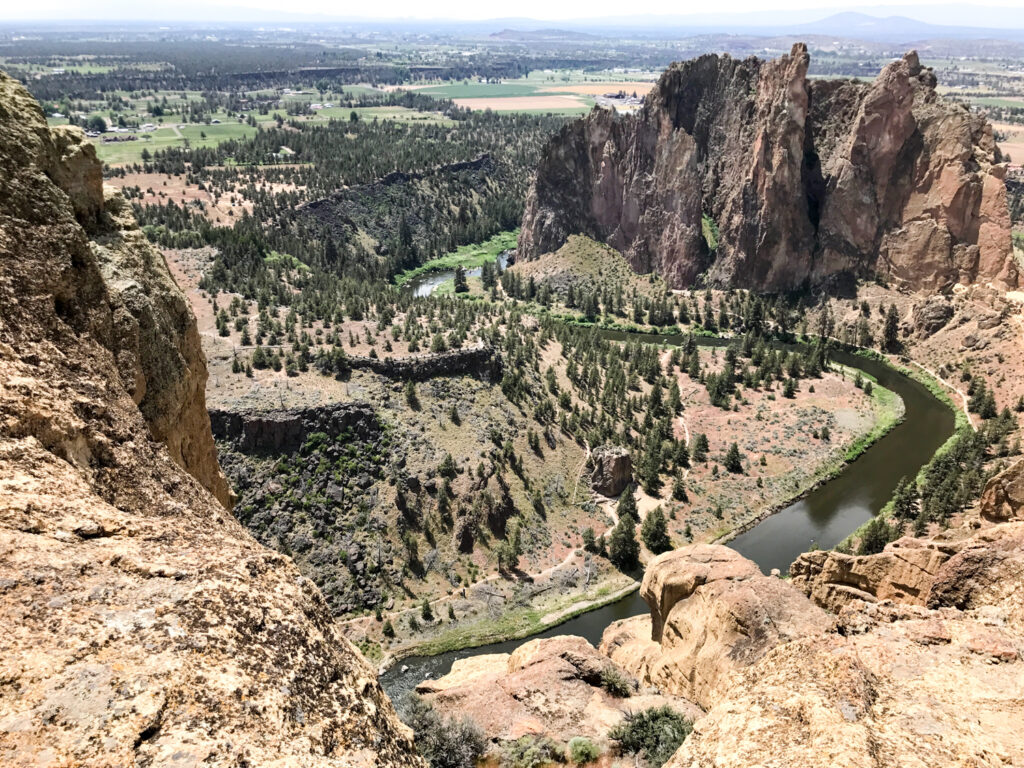 View atop Misery Ridge, looking west towards the Phoenix Buttress climbing wall
I captured this while passing by the 350ft Monkey Rock just as a climber completed his ascent. As is true with many rock climbing walls, this pillar has multiple routes. Beginners can opt for the "West Face Variation" (5.9 A1), while advanced climbers can be challenged with "Just Do It" (5.14c), "East Face" (5.13d) or the "Backbone" (5.13).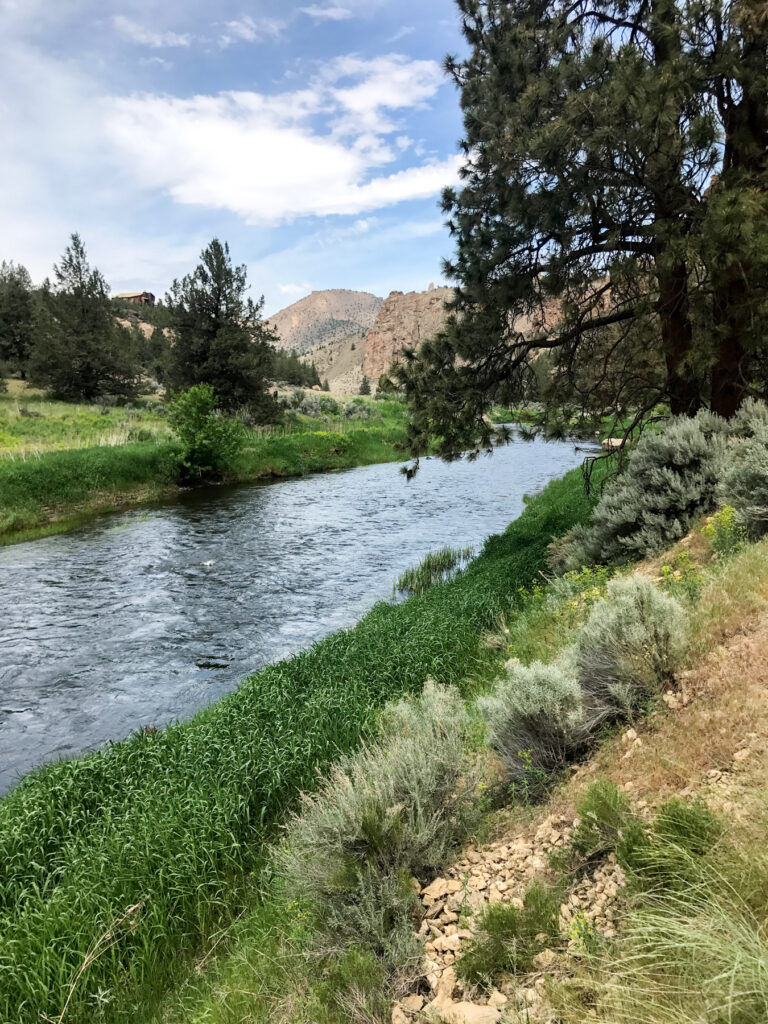 The River Trail is nice and flat, a perfect path for families with young children or the elderly.
An approach walk of anything between 1-3 miles is common for the climbing routes in Smith Rock State Park. If you're traveling with a mixed sport group (climbers and non-climbers), take advantage of this and start the day with a hike together to the climber's selected wall. The well maintained trails, benches and nearby river offer hikers plenty to do while your buddies are working the rock.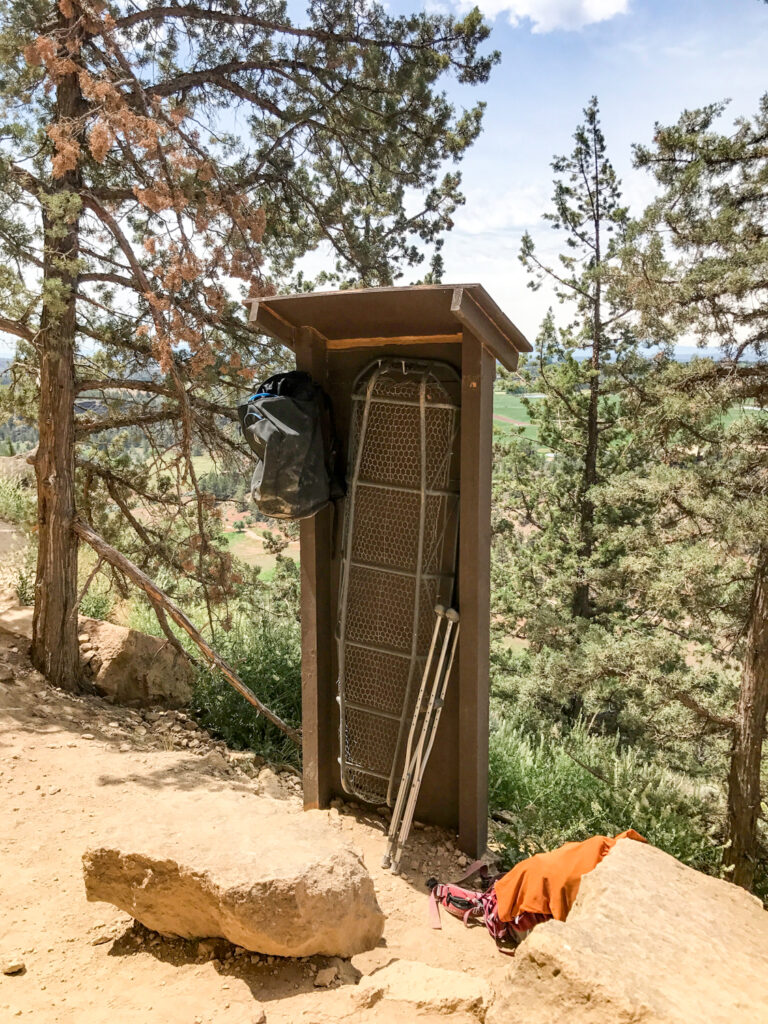 Throughout the park you'll find old school stretchers and crutches in case of emergency. A good reminder to always adventure with at least 1 other person!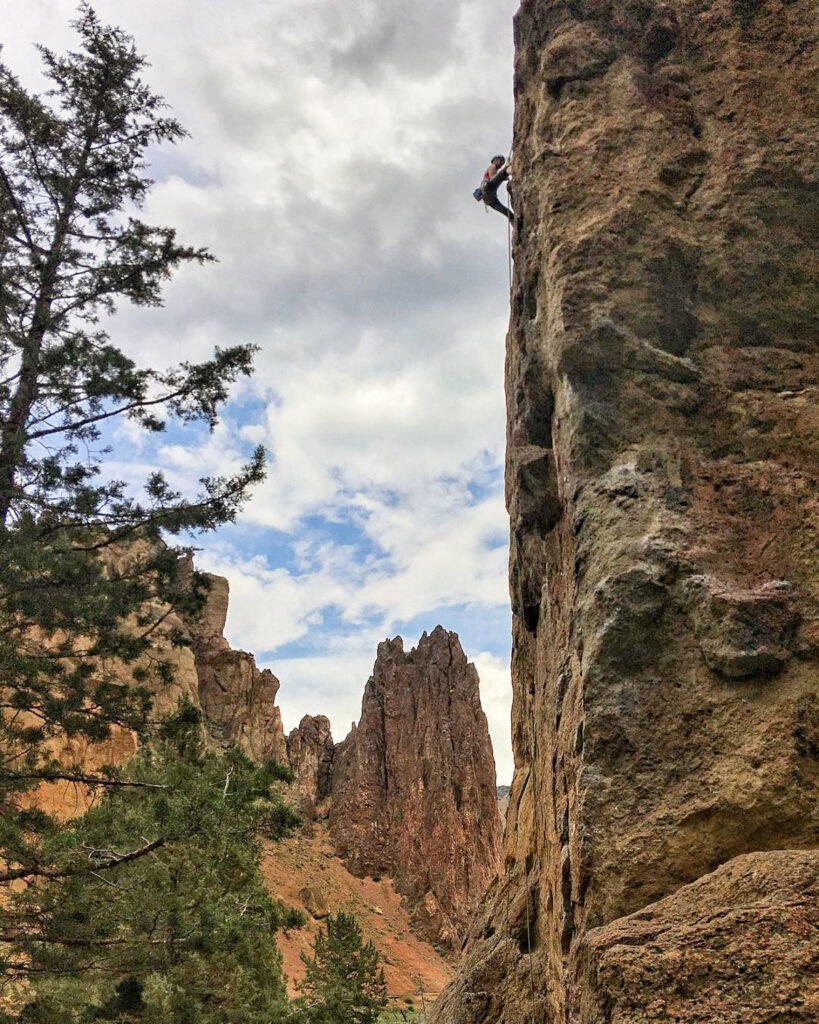 My friend Beth crushing her route after a sudden thunderstorm caught her on the rock.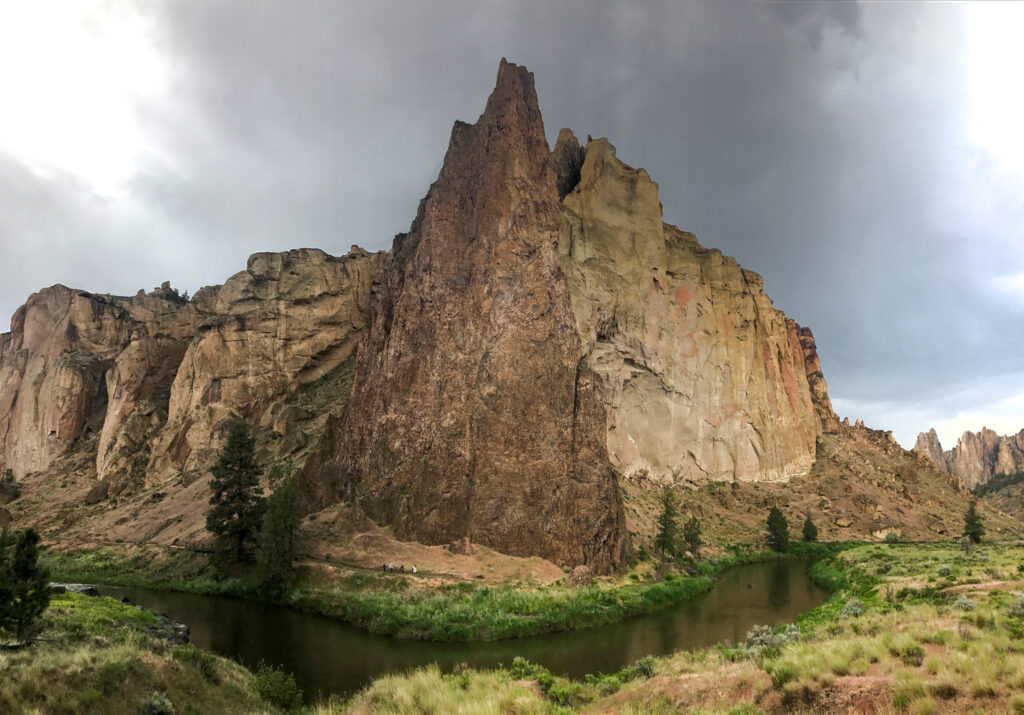 Gloomy skies and an afternoon thunderstorm were inescapable in this virtually treeless park – come prepared with a raincoat and/or umbrella!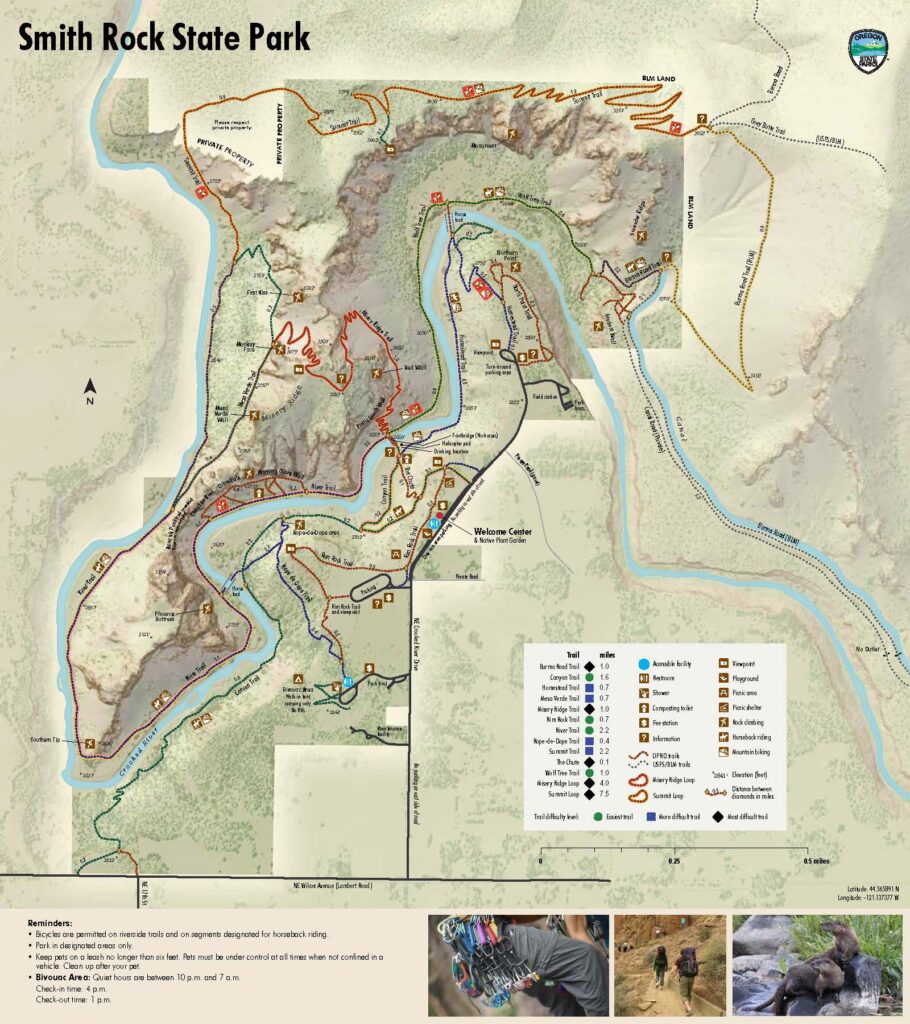 (Photos by HonestlyFIT, map by SmithRock.com)