Okay, we're saying it — Korean Spa scrub downs are the ultimate way to get your skin fit for Spring. In addition to the super-freeing, softest-skin-ever sensation, a scrub like this gets your lymph going (good for detoxification), boosts immunity and quite literally sheds dry winter skin. Think of it like dry brushing on steroids.
Every year I marvel at the total transformation that happens between February and April here in NYC – bulbs start to sprout, trees bud and we all smile more as the days stay lighter longer. But that's not the only transformation I look forward to. Each year around this time I go for a major scrub down. We're talking full-body, head to toe (literally behind your ears and in-between your toes) majorly exfoliating scrub at on of the amazing Korean Spas in midtown Manhattan. I am beyond obsessed with this seasonal ritual and think you should be too, so here is the 411…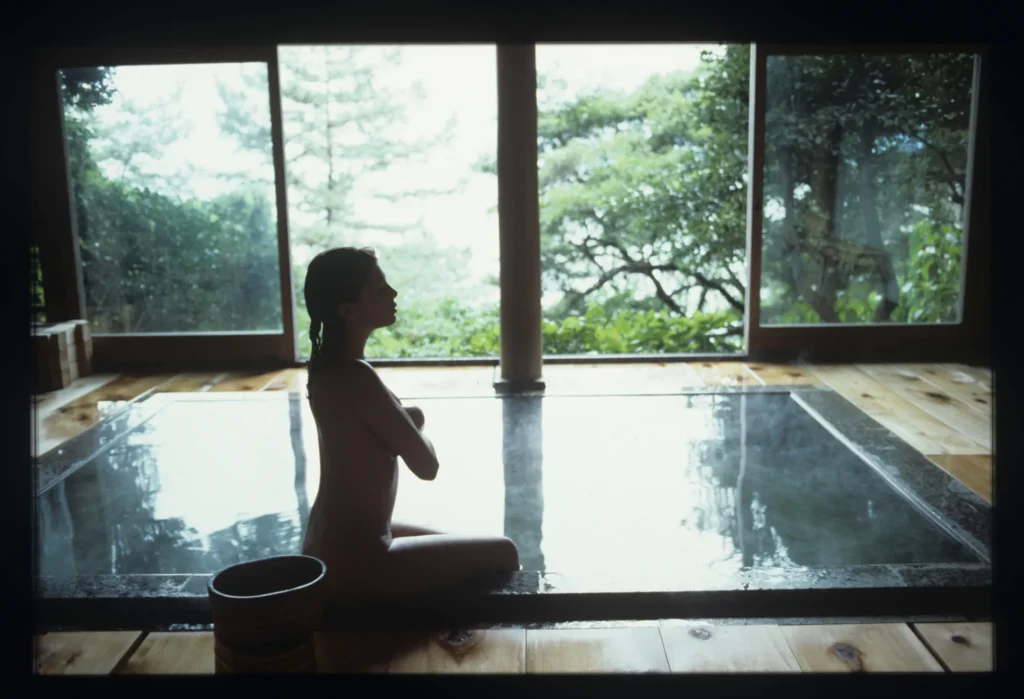 What to Expect
Liberation / Let it all hang out – Plan to spend a lot of time in your birthday suit along side a friendly scrubber in her undies.
Water circuit for skin softening – The process starts with a sauna, followed by cold, warm, and hot tubs and ends with steam (during which bathing suits are optional). This preps the skin for the main event! At one location an attendant actually came a pressed on my skin to see if I was "ready." I felt like a piece of meat and loved it – nothing more freeing than relinquishing control and trusting in the process.
Scrub scrub scrub – Once you're steamed up and ready, your scrubber will lead you to a room with a massage-like table covered in super waterproof vinyl. (If going with a friend, you'll likely be side by side). Starting face down, they begin scrubbing you with small mitts that feel like a very fine, pleasant sandpaper exfoliation. The spa attendant begins at your feet, then slowly works up each leg, down your arms, and over your back, paying special attention to rough spots, like elbows. You'll then turn onto one side, then the other and end on your back. All throughout, you're occasionally doused with deliciously warm water, so you're never cold despite the total lack of coverage.
Farewell to so much dead skin – My first time I thought the water was washing away the exfoliator they were using, as I was feeling bits of it everywhere. It wasn't an exfoliator. It was all dead skin! If that grosses you out, I get it, and this is very much NOT for you.
Facial Rejuvenation – Once every inch (and I mean e-ver-y inch) of your body is scrubbed, a fresh cucumber face mask is applied and sits while you get an invigorating shampoo and conditioner.
Washed Away – After your hair and face have been flushed of all the soap suds, a fresh towel wrapped around your body feels like pure cleansed comfort.
A Trip to Cloud Nine – As fantastic as the scrubbing is, afterward you feel deliciously floaty, without a care in the world.
Cost – Around $120 for the whole kit and caboodle (sauna, hot tub, steam & 60-minute scrub)
Take Aways
DO IT. No only is it the perfect Spring Cleaning ritual, the lymph, circulation and immune boost makes it a great I-feel-a-cold-coming-on remedy. I treat myself to this magical experience 1-2 times a year and have never been disappointed.
Always opt for a Korean Spa – Search for a body scrub at a Korean spa near you. I can't stress enough how different (and how much better) the scrubs at Korean spas are compared to a salt scrub or the like at more European spas.
Recommendations