With springtime soirees and basketball playoffs upon us, there are many occasions where a good cracker is needed. We've previously shared an insanely delicious seed and nut paleo cracker recipe, but it probably takes some grocery shopping to make happen. That's why it is especially exciting to post this grain-free, nut-free, vegan and nutrient rich flaxseed cracker recipe that literally anyone can make in a pinch and pair with savory or sweet spreads!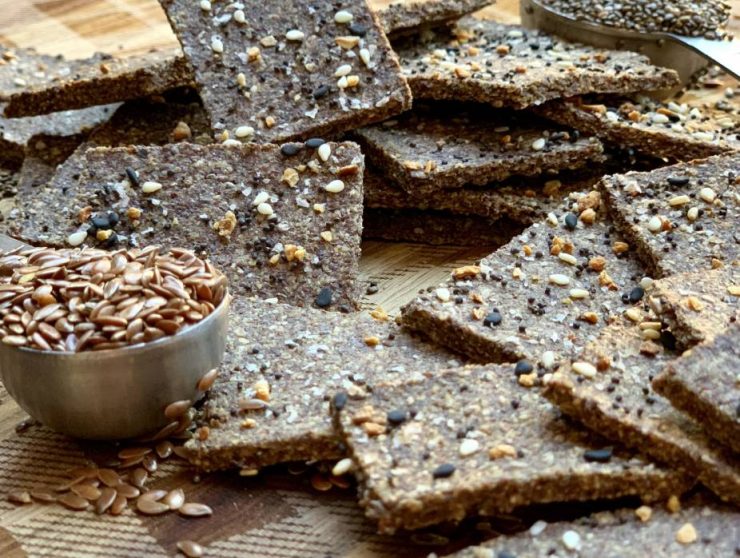 WHY FLAXSEEDS ARE SO DANG AWESOME
Rich source of omega-3 fatty acids, which supports heart health, joints, mental health, skin radiance and reduces hair dryness.

Act as a natural hormone balancer and immune booster

 

thanks

 

to lignins – Flaxseeds are the number one source of lignin, a chemical compound within plants that acts as an antioxidant in our bodies to help fight disease and regulate blood pressure and cholesterol levels. Lignin's antibacterial properties also help eliminate yeast and promote the growth of probiotics and their estrogen-like properties, which makes them especially beneficial for women to consume.
 Fiber & nutrient absorption – As a soluble fiber, the seeds trap fat, bile, and cholesterol in the digestive system and prevent the stomach from emptying quickly, maximizing your body's nutrient absorption.

Vegans can use a flaxseed meal as an egg replacement!

Simply mix 1 Tbsp flaxseed meal with 2.5 Tbsp water; let sit and thicken for 4-6 minutes and use! 
FLAXSEED CRACKERS
Once you discover how easy these are to make, I'm guessing you'll start eating them at all times of the day. We've shared some of our favorite pairings below in the event you're feeling fancy or hosting guests, but really you can't go wrong with a basic avocado, cheese or nut butter topping!  
Prep time: 5 minutes
Cook & cool time: 30 minutes
Yields 10 servings
INGREDIENTS
2 cups Flaxseed meal (we get this one from Bob's Red Mill)
6 Tbsp water
1.5 tsp coarse sea salt (reserve half for topping)
1 tsp honey
optional: 1/2 tsp black pepper and/or chili flakes (if serving with savory foods)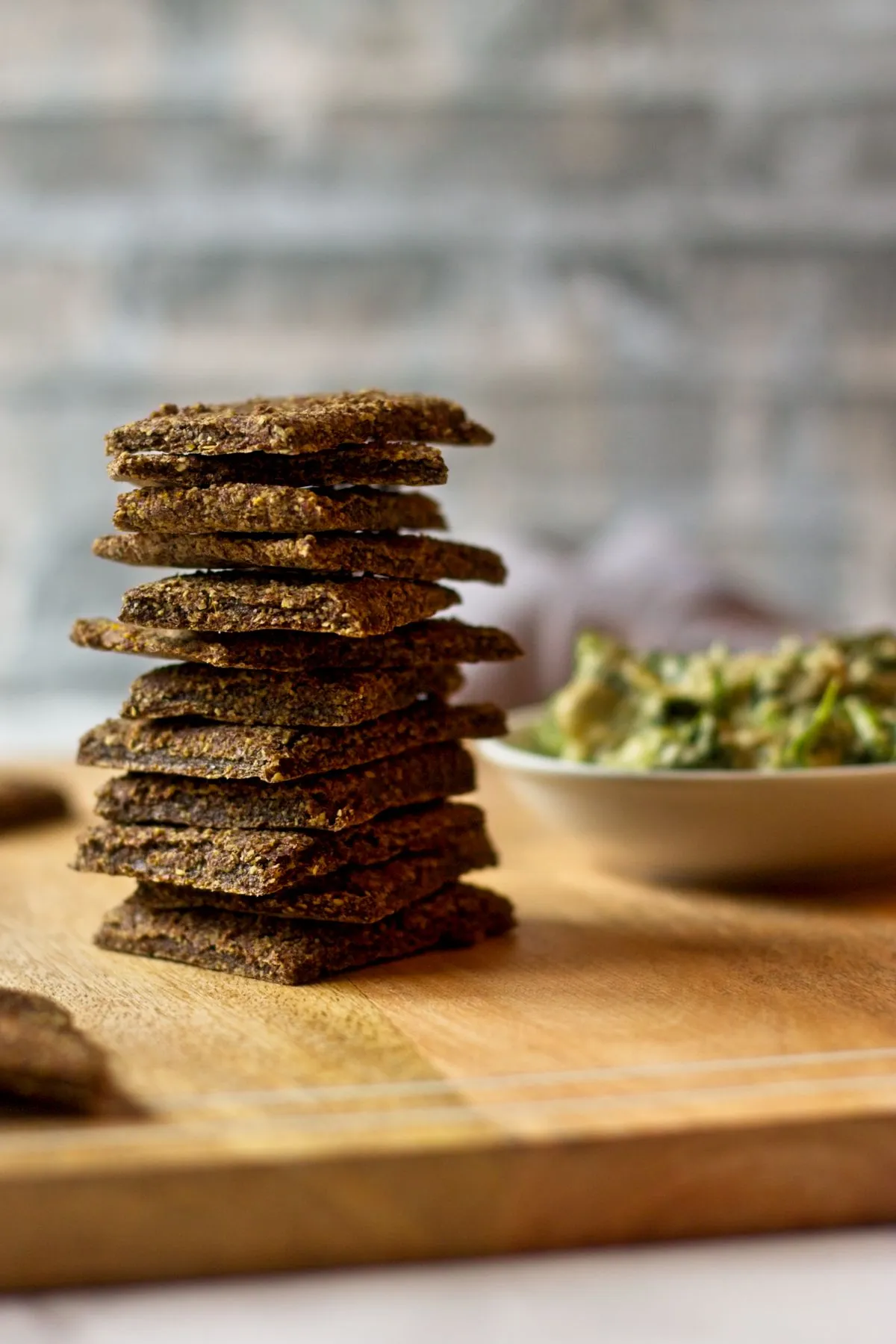 INSTRUCTIONS
Preheat oven to 400°F. Line a baking sheet with parchment paper and set aside.
In a large bowl combine all dry ingredients (reserve 1/2 tsp sea salt for topping). Add water and mix until an even dough forms.
Spread onto the prepared baking sheets and flatten to 1/8-inch thickness. Cut into 1½-inch squares then sprinkle evenly with large flake sea salt.
Bake until crisp and the edges are browned, about 25 – 30 minutes. Let cool completely before cutting into squares and serving.
SERVING SUGGESTIONS
Mixed nut butter w/banana and cinnamon + coconut flakes
Seed or Cashew butter w/ berry jam + bee pollen garnish
Vegan Ricotta w/ figs and honey + crushed pistachios
Greek or coconut yogurt mixed w/ blackberry and garnished with blackberry & mint
Cottage cheese with pear, crushed hazelnuts & edible flowers
Manchego with apricot jam and apple slivers + orange peel